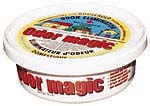 HOUSEHOLD ODOR ELIMINATOR
MAGIC ODOR
Environmentally safe.
Fresher more pleasant air.
Attracts and eliminates most household odors.
Eliminates offensive odors caused by cigarettes, cigars, paint, cooking, pets, gasses, damp carpets, fire/smoke, foods, chemicals, mildew, etc.
Developed for use in enclosed environments such as motor vehicules, homes, offices, basements etc.
Effective in space up to 350 square feet.
White "Safety-Sealed" decorated 227g (8 oz) plastic container.
Premium white 'oysterboard shipper (used both for the 24 x 227g (24 x 8oz) and the 12 ECONO-PAK) can also be used as a Tray-Display.
Made in Canada.
ODO-97001
Color
White
Pack
24 / box
Dimensions
9 1/2'' x 14'' x 8 1/2 " --- 24,13 cm x 33,56 cm x 21,59 cm
Weight
13,2 lb / 6 kg
Volume
0,65 pi3 / 0,018 m3
ODO-97002
Color
White
Pack
12 pack 2 / box
Dimensions
9 1/2'' x 14'' x 8 1/2 " --- 24,13 cm x 33,56 cm x 21,59 cm
Weight
13,2 lb / 6 kg
Volume
0,65 pi3 / 0,018 m3