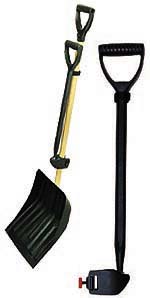 THE EASY AND SAFE WAY TO WORK WITHOUT BACK STRAIN
EZ BACK HANDLE
Adds an extra handle to long handle tools improve leverage and ease movement.
Ideal for shovels, scrapers, pitch forks, brooms, rakes, etc.
It reduces the strain from back lifting and bending.
Pre-assembled.
Easily attached and removed.
Adjustable height.
Adds extra stability.
Suitable for hight or left handle use.
Integrated ball joint eases swivel movement.
Comfortable grip handle.
Easy to use.
Fits shafts from 1 to 1-1/2 in (25,4 cm to 38,1 cm).
Available in BLACK.
Made of durable plastic.
Made in Canada.
Patented.
HAN-55011
Color
Black
Pack
6 / Box
Dimensions
9'' x 12'' x 30" --- 22,9 cm x 30,4 cm x 76,2 cm
Weight
5,7 lb / 2,5 kg
Volume
1,8 pi3 / 0,053 m3